Vines Interview from Snoozer magazine
March 2006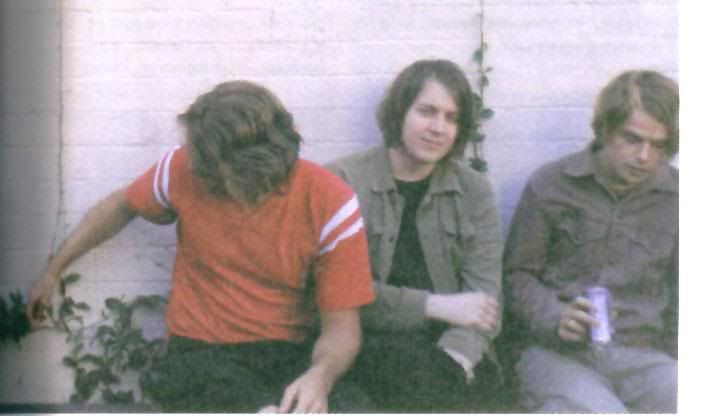 They came back through the cold winter.
He got to know his disable. Separations from friends from his early days,
or his family. Losing his memories...
The Vines' 3rd album " Vision Valley " shows the experienses of Craig Nicholls, the front man's pain, agony, or sadness so cleary.
But, it also shows their love for music by their power, decisions and talent
by 13 songs so brightly.
How did they reach to their new start line?
--- They talked about their 2years of blank in their own home town, Australia.
March 17th, in Sydney. There is their management office in a quiet town in the east of City area of Sydney. Summer of Sydney is not finished yet, their little back yead gets bright sunshine. I can hear some bards from somewhere far.
Very peaceful and quiet afternoon.
It's been 2years since I visited them when they released their 2nd album
" Winning Days ". Yes, I could come back to Sydney again, wearing my headphone and listening to " Vision Valley ".
Of cource, this is to see the Vines again.
This time, the band limited interviews, not only from Japan, from all over the world.
We were supposed to have a 30minutes interview through the phone with Craig Nicholls acctually. But, once I listen to this new album, it seemed
impossible to know everything about this album in such a short time.
This is not that casual or simple.
Also, they've had so much painful and tough experienses in these 20months.
Some of those experienses would be hard to ask, hard to answer.
So...I wonder if it's possible to talk with them a little longer?
Such an absurd offer got approved a few days ago. And in 30minutes, those three members will show up and we can start the interview.
Before I start it, I think I should exprain about things happened to the band in these years. To do that, using the words from their manager, Andy Kelly's, would be the best way.
" Last week, we got a phone call from Triple M, finally. Said " Let's forget about the past, so, can you send us the song "Don't Listen To The adio "? " That is great! " He laughs.
He's talking about the case that happned at Annandale. May 2005, the band finished Japan tour and got back to Australia and had a show whitch was organized by the radio stasion Triple M. At the show, Craig Nicholls used abusive language to the audiences, and played only a few songs. Patrick Matthews, the bass player, got up here with it and left his bass guiter there and never came back to the stage or the band.
Also, Craig Nicholls got a fight against a photographer there and broke his camera.
This case got brought to the court and the organizer Triple M decleared to not to air their songs for good.
There, Andy is talking these relevances are getting restorationed.
Oh, maybe I should go slower...
This case clarified the fact that is Craig Nicholls is diagnosed Asperger's
Syndrome too. It would be difficult to fixation what Asperger's Syndrome is. If I could say roughly, it is high-functioning autism that has no problems with knowledge or a language. The symptom or obstacle are various, some feel pain to see others' eyes, some dislike to talk over the phone, or being touched is painful, and some only wear the clothes made of specificated materials. Some are so talented at math, music, or art. Yet, a common characteristic is like to have their specificated routeen or
have their own ways to do things, and difficulsy of communication with people in society.
Yes, back in years, Craig was obcessed of having McDonald and Coke, or pod, also he had huge cunfusion when he went to places he didn't know, this maybe one of the answers.
Surely, now we can think of the shows in Japan that was like rainstorms of exposure to the wind...
Andy continues,
" Of course, I feel so sorry about the behave he had during we were in Japan. People in Japan welcomed us so wormly. But unfortunately, he used to act like that wherever we went. (greaf) Culturaly, Japan was the place to get the worst resolt of his behave.
But...Craig can't remember most of those. He regrets everytime he hears what he've done that isn't memorizing. he doen't remember about Jay Leno's TV program, neither the David Letterman's. He doesn't know why he looked like that in their videos " Get Free " or " Ride " if he sees them. He even doesn't remember Homebake!
Most of memories of that period of times are gone from his head. "
After the case, Craig got sued. He had to appear in court as a defendant, he had to use his diagnosis of Asperger's Syndrome as a plea. Still the case was going, then this announcement ran through not only the local medias, all over the world.
Because of the demand of knowing why he happened to do like- broke tape recorders of interviewers, stuck in a bath room for 2hours to reject the interview, fell on his face on a floor for a long time...those odd acts.
" He said he felt releafed of knowing it. It's just it got a name on it... Also the fact that is he is defferent than others. Craig himself kept thinking that he is defferent.
But..yeah, he accepted the diagnosis smoothly, more than we thought. "
They cancelled all the shows and they began silence. Of cource, that was for Craig to consentrate on his treatment.
" These 2years, the most important thing for us is that Craig gets better. Honestly, we didn't have any aim as pros, we didn't worry that they can't go touring at all. We just want Craig to be happy again. We want him to do music with that in mind. That was our subject for these 2years. That was like we had to fall into a bottom to clime up again, I think. In fact, once he got worst when he got diagnosed before he got better. "
The album " Vision Valley " shows us those his emotional scars.
" Tell where I'm going to Got nothing I wanna lose
Round and round and back again Grin upon my fucking head "
They got togather to be a band and toured around the world, wished to throw themselves into the music enthusiasm, and almost to reach their dream...but got back to the place they used to be. With losing the things they piled it up so hard.
The lyrics of " Nothin's Comin " seem like he spit on his own words he scribbled.
Sings like " Take me back to the weather " , in the song " Take Me Back " which is mellow and accoustic, sounds like he thinks they became a band of the past, got kicked out from the most exiting place/scene and forgotten. I can see such loneliness and sense of defeat from the song.
And the first song of the album, " Anysound "...they twist themselves compair some threadbare vines. And wispers like
" Time hangin' around Been getting' me down now baby yeah
Show me any sound Kill me now I'm dead "
Yes, this line sais an important thing, such as their ache to grab music into their own hands again.
The Vines are slowly starting again with one hope, and " Vision Valley " came out.
" It was really a slow prosess. "
Andy thinks back.
" At that time, the only thing we did was just keep cheering him up, I think. Like, keep asking him " Did you write any new? " or " What are you doing now?" , we kept talking to him like that and visiting him in his home...
The funny thing is, he kept carring his DAT tape in his pocket.(laughs) But first, if we asked " What's that? Anything in it? Can I listen? " but he always was like " Well...I don't know..."
So one day, I and my partner went to his home, sat, and given a headphone.
We used the headphone in turn and listened to a couple of songs.(laughs)
That was a start in some way. And then we kept talking about songs to Craig then he started to say " I really want to make this album. " also " I wanna make it a very direct and the best album we've ever made. "
And then...went through those unexpected blanks, the Vines's 3rd album " Vision Valley " got born. According to Craig, the art work of just one tear going down in nothing but black means " Not to bother the images of listeners have. " .
But there might be no other way for him, being shutted down from his own place, music, for 2years, also almost it was getting away from his hands.
In this album, it is only 31minutes for 13songs. Any soing in this album is more direct and powerful than ever. Of cource, this is the resolt of his special feature that is he takes it to write music of a stand for two minutes when he overflowed with straightforward to a hook was fully shown.
The meaning of the lyrics towards introspection, although most of the melody they play sound is sharp and light. Because it's simple, the points of songs are clear, nothing to waste.
Phychedelia like gentle sunlights from " Don't Listen To The Radio " , " Candy Daze ", fantasical, deep releaf and loneliness from " Vision Valley " , " Going Gone " has something like stillness of all after having finished shedding tears.
And, cut the darkness with the rock tunes, " Dope Train " , " F*K YEH ", " Gross Out ".
The longest song of the band, phycedelic symphony " Space Ship ".
All those songs are nothing but just the Vines.
I remembered... 4years ago, he said " I'll keep making great albums.
Because our music have to be called by our own band's name, not by any other bands' names! "
It was at the first interview, he said so and he seemed he was full of expect and excitement.
Alright, the time has come.
The one arrived on time was Hamish. His huge body and smile are the same...just when I looked his legs, he has some plasctic appliance on his left knee, he said he got injured when he was surfing. Chatting with Hamish and Andy and waiting for the other two. About 20minutes later, the door opened quietly. Craig greeting " Hi " behind Ryan. His hair got grown, and to be honest, he got some weight. But his habit that he looks down when he laughs doesn't change.
" I still have all the Snoozer magazines I got. "
I had some interviews with Craig, but this is my first time to have an interview with all three. Because Craig never allow others to talk about his own music.
But this time, as a condition in response to interview, he hoped for Hamish and Ryan attendance. As a fact, he still have difficulsy to keep convasations smoothly.
Bidirectional conversation for a long time is not an easy job for him.
When it comes to music, he used to talk surprisingly eagerly, so as to be
sometimes disgusted. If I could compair, he talks much less and words became broken, too.
But Ryan and Hamish watch him well at both sides. During this interview, Craig sometimes got lost at word and asked for helps. This shows that they're changing as a band through this " Vision Valley " too.
Yes, they're taking their time yet they added new page to adventure record of themselves.
And the future of the Vines is full of possibility.
Interviewer: I'm really glad to see you guys again.
Hamish: (laughs) Exellent!
I: Also, thank you for giving me this oppotunity to talk to you.
H: Yeah, this is our favorite magazine.
I: Thank you. Well, where should we start? Maybe I should start with my impression of the album.
Craig: Okay.
I: I thought this " Vision Valley " is the most beautiful and sad album.
C: Hm...yeah, I think I have to agree. There must be sadness, yea. (laughs)
H: I'm glad that you thought this is the best. I think this is the best album of us, too.
I think this is so powerful, has no weak songs.
Ryan: I think every song is happy inside.
H: But those our first two albums have some melancholia. A little bit. Can't we say so? Everything isn't sunshine. (laughs)
C: Hahaha
I: Yeah, both of " Highly Evolved " and " Winning Days " have dark and melancholy emotionals. But most of those were frastlation, anger, or irritation, I think. But this album has pain or sadness there far ahead.
C: Yeah, well, I think I was sad. Right...I don't know what to say though.(laughs)
I: Okay then, I'll go slower. When did Craig start to write songs for this album?
C: In the year of 2004. Maybe when the latter half of 2004 began and at the beggining of 2005...
H: (his cell phone rings) Oh, Sorry.
R: (laughs) Heey
C: Hahahaha
H: It goes like this everytime when my phone rings.(laughs) Sorry, continue!
C: ...I lost concentration. Hm...I wrote songs from 2004 to 2005.
I: You kept writing slowly?
C: No, I don't think so. I could finish quickly. Most of the songs became form almost at the same time. So...I think it was quick.
H: We got to listen to many new songs suddenly and it was like " Wow great songs! " Besides, if Craig was hiding them then it'll be defferent though. (laughs)
C: Hm no.
I: During that, what you two were doing?
H: We both went to Craig's home often at the end of 2004, and were making demos. We did 6 or 7 songs at that time?
C: Yeah.
R: During that, I think we were just taking some off...since the last time we played. Well, I can say we were waiting. But it wasn't like waiting for songs made, it was like waiting for getting ready. Or waiting for being able to focus again.
I: Which song got form first? Do you remember?
C: Well.....
H: " Take Me Back " ?
C: Yeah, " Take Me Back " was the fist. We made a demo of this song and thought it was good. It was...8trucks at that time. Yeah, I think that was it.
H: " Nothin's Coming " is almost the same time, when started making demos.
R: And " Dope Train " too.
C: Yeah, " Nothin's Coming " and " Dope Train " too.
I: My imagining of " Take Me Back " is like simple reflection of your feels of when you got exhosted by touring around all of the world, then you feel to wish to go back to your own place or hometown...
C: Yeah, maybe...that's a good explanation I think. Maybe. I don't know what I wrote about though...hm...that maybe about that.
I: Are still there that you can't objectificate what you were supposed to write about?
C: Yeah, I guess so. There are many abstract lyrics. .....Yeah, sometimes, I don't know what I'm saying. (laughs) But the ideas for songs don't have to be real. They're more common ideas..
I: You're right. But in fact, many of fans listen to this album and imagine that you maybe sufferd by those accidents you've experienced after the " Winning Days ", I guess. What do you think about it? Do you feel any sense of incongruity from that fans might joins together the stories that you exaggerated or emotions and your personal events directly?
C: No, I don't think so. I don't care how people accept the songs. Because...I can't control such things. I write songs from my personal experience, but some of the songs are just made up stories. Also, there are many abstract things, too. So that maybe okay.
I: How did you two feel? Honestly, by how to catch those, there must be too directly songs, I think.
H: Of cource, I thought it is so personal. The two songs I linstened to first were " Take Me Back " and " Nothin's Comin" and...they have a little sadness inside. I thought " Nothin's Comin " has pains, too. Well, I felt so for those two.
R: I can't explain well, but sometimes abstract songs can make more sence. Songs like Craig even doesn't get. (laughs) Because he writes them more under unconsciousness. And if you thinking about lyrics when you listen, it makes sence more and more, like that. And at the same time, you can feel more personally.
I: Craig said before, " I can get through the difficulty by making it allegorization to song writings." Does it suit to this album too?
C: Yeah, I guess. I still have those kind of imagination on my songs. ...Like sound of dreams or like that.
I: Are there any experiences that you wrote music when you really faced some difficulty?
C: Hm, yeah. Like I can get it out by a good method. This is the good way to expression of myself. Through the songs,..lyrics, sound, or merody or something.
I: I felt the storong sense that was refused or betrayed in the whole album by somewhere, something by many of the songs of this album- like " Don't Listen To The Radio ", " Nothin's Coming'", " Take Me Back ". If it is true, yourself is refused in what and it is hurt and what does think that it was driven in?
C: No...I don't know. I'm just...so...I think I felt I was alone. So...confusion. I guess that it was.
I: For example, do you have any thoughts of medias that let their manners change suddenly from a certain moment or fans left you?
C: No, I don't think so.
H: The word " betray " is too strong. Because...I know medias were so favorable for us in 2002, and wrote many acticles about us. And they did turn their back, especially the British medias. But that is how it's going to be. Tabrolds play it up exaggeratedly and make things huge stories. No matter what it is, they have to make it exciting.
C: (wears Hamish's sunglasses)
H: ...That's nice.(laughs)
C: (giggles)
I: Well then, do you think the sadness or anger in this album are not toward to the world, they are toward to yourself?
C: Yeah...I guess so...right.(laughs) Hmm no, maybe...they're toward to the situation I have, you know.
I: Can you explain about it a little more?
C: Well...maybe I was isolated. But it was like...it's not like somebody else put me in the situation. Yeah, I put myself in the situation, I guess. Well, I was okay about it though. (laughs)
I: But it is the most painful thing, you don't blame anybody else but yourself, I think.
C: Yeah...I blame myself.
I: This is tough to ask you this, but I think Japanese fans wanna know this so I'm gonna ask you. Do you remember about the Japan tour 2years ago?
R: Yes.
H: I remember that.
I: Maybe, that was the most confusing time for Craig, the band, and fans.
C: Yeah...I wanna apologize them.
I: No, you don't have to apologize.
C: .....Alright, okay. (laughs)
H: (laughs)
C: To tell you the truth, I really don't remember about it. I know that was the most stressful time though, but that's it.
I: Yeah, of course, there must be some fans that got hurt. Although they've waited for you. And you guys made a new album and came back with it. That's the most important thing, I think.
C: Yeah...yeah...
H: Did we make it up?
I: Yes, by the best way than anything.
C: ...Thank you.(laughs)
I: Well then, since you guys started the band the Vines, or decided to do music, what dreams came true by going through those 3 albums? Do you think that you were able to achieve the thing which aimed once?
C: Yes, I guess so. I just wanted to make good albums, and I think those 3 albums are good.(laughs) So I think I achieved that I wished to do. We wanted to play music.
I: Do you still have anything you haven't achieved yet?
C: Well...I don't know...well..
H: We haven't played at Fuji Rock Festival yet.
C: Right. (laughs) We haven't done it yet. But...nope...we achieved so many things, more than I thought. And, I just wanna keep doing it, you know.
H: I wished to be in a band, tour, and record some albums. Everything happened at the same time in the Vines. Most of the ambitions that I had were achieved at the same time as joining the band. So maybe, I should make higher goals now, like play at some studiums or partying in the back stage or something.
C: Ahaha
I: Do you think you had something that you had to giveup?
C: I don't know...I don't think so.
R: I don't think we did, either.
I: For example, you sings like " Nothing's gonna change " in the song " Nothin's Comin' ". What did you giveup there?
C: Um...I don't know. Maybe I was feeling so negative when I wrote the song. I thought like " Am I gonna stay like this? " or I didn't know what I was going to do. This was the first song I wrote. So...I was...hmm...(sees Hamish) Help me.
H: (towards to Craig) About " Nothin's Comin'" ? Where did the song come from?
C: Yeah, that... Well...that was " nowhere ". The song is about it. I was just...sad. I can't explain well, but I didn't have hopes or future, I was no future.(laughs)
H: Like you can't see anything in the future?
C: No, yeah, nothing. So that is " Nothin's " .
R: It's just like the moment.
C: Yeah.
I: Speaking of " future ", where did the ideas of " Futuretarded ", such as future when development has stopped or the future without progress, come from?
C: That song is just about the technology. The song is about future also the past, I guess. And...it sounds so old for me. Just the sound. Well, it doesn't sound futuristic.
H: A little bit more tribal, huh.
C: Yeah, it's tribal.
H: We are tribes but we have electronic guiters!!! HAHAHAHA!!!
C: (giggles) He is funny,huh. (keeps laughing) Hey, Hamish is really funny. He sais that we are tribes with electronic guiters.
H: We are the tribes of how many centuries? (laughs) We have to have plugs.
C: (can't stop laughing)
I: It's about the future, it's about the past...does that mean it's not about current?
C: No, not now. Well...but it might be a bit about now. Like the first line or something. Yeah. And...the title of the song sais a lot, I guess. " Futuretarded " is about people, like what was it like when the human began, or something like that. When we were still the tribes. (laughs) Also...as technology increases, people sarted isolation. To survive.
Those kind of things are the main theme.
I: Do you mean some more original way of life or something? Like they should be should be instinctive?
C: Yeah, I guess so. Like, they should be more...collected as a group. They should better to do that. Well, that's just my idea though. (laughs) Because...I don't think they would be. They would be more indoors, and electric appliances or machines would do things instead of people.
I: Is it like the same as people seem communicate each others through the internet but it isolates a person essentially?
C: Yeah yeah. But I really didn't think that much deep. This is just an idea. Like cell phones or computers...something like those. I'm not bashing those, I maybe just a little cunfused about those. So I'm just saying what I feel. Well, everything used to be so natural at first, but nowadays, nothing is natural.
R: Yeah.
C: Like who can survive if electricity and fuel are shutted down, because I don't know how to raise plants, or how to make food either. People used to know those and lived together back in time. But they don't now, so they'd get cunfused.
I: If we think back, " Highly Evolved " was like declearing to get out from where you were no matter what. And then, " Winning Days " was like the admiration to the new world and hatred, or torn up by love to the hometown that you had left and sorrow.
Meaning, we can say the theme of your songs can be the place you were supposed to be, or finding your home. Is such sence is still going in this " Vision Valley "?
C: Ahh...that's a very good question. But how can I answer i t...Maybe........... there is no home.
I: You think so?
C: (towards to Hamish) Hey, help me.
H: (laughs) Hm, anyway, is it like " I'd better stay here " ?
C: Yeah, right. You're right. There is home. Yea...there is! Because there's no place like home!!! (laughs)
I: How about the lyrics of " Space Ship " then? The song can be accepted as saying goodbye to your home that you used to live, or your family, right?
C: Yeah, like I'm gonna getin the space ship and leave home. But this is just a fairlytale like I said before in a way. Or, for a real meaning, I might saying " I'm about to leave home. " . That might be sad. In fact, this song sounds sad... Yeah, maybe so. But this is just a story, really. No matter if I was feeling like that way, I made the story bigger for the song.
I: Okay. Then in that story, where the space ship is headed to when the chief character got in?
H: Space, I guess. (laugh)
C: Hahaha, well, hmm...Blisstania. Where the " further supreme bliss " is. It's from the Simpsons, there it this cult that they believe they can ride the space ship and go to Blisstania...wait, this is a horrable joke.(laughs) Sorry, forget about it. Well, the space ship is.....ahh...I didn't think about it that much. It just takes me out and nothing further, that was it. Could be some another planet. Yeah, maybe.
Like Hamish said, it maybe space basically. Not Blisstania.(laughs) That was just a madeup of the TV program.
I: Before the " Space Ship " , " Atmos " can let you imagine space. Like your consciousness goes to the place that is not the earth.
C: Yeah, I'm not sure it was on purpose or not though. But this is defenately a spacy song. I think so too.
H: Like escapism?
C: Yeah yeah, that's it! Escapism. Going as far as possible from here to a far-off place. This song sounds like flying in space.
I: Do you think you can say there always is the escapism as an important element in the Vines' music? In those two first two albums and this album, too?
C: Yeah, I think so. In this album, those last two songs make it clearer, but the must be the escapism all over the album.
I: Also, " Atmos " is a love song, right?
C: Yeah, I think so.
I: Craig was not so interested to write love songs till now, huh.
C: Nuh...but we might still have some love songs somehow. " Mary Jane " is one, I guess.
I: Right.
C: Yeah...but, " Atmos " seems really a straight love song.
I: It seems like you confess about your love, you apologize, and hope to be forgiven.
C: Yea, right. That is...a very good interpretation. Totally, I think so too.
I: Is that like you are afraid if you hurt her?
C: ...I don't know, I don't know about it.
I: Not only about this song, have you recalled that if you've hurt someones or not?
C: Let's see... But I guess making music doesn't hurt anyone. Because music is supposed to make people happy. I don't wanna hurt anyone, I just wanna let my feelings go.
I: Music never hurt people?
C: Hmm...yeah, I know some people get hurt by it...yes...uh..no.(laugh)
R: Of course, music sometimes make people sad somehow. There are happy songs, and there also are sad songs.
C: But nobody gets hurt. Nobody. ...I don't want anyone to get hurt. Really. I'm not supposed to hurt anyone. It's just music, that's all.
I: Well then, which song is full of hopes the most in this album?
C: " Candy Daze ", I guess.
R: Yeah, defenetely.
I: This is a very strange song, very abstract.
C: Yeah, it's supposed to be a happy song.
I: What is candy daze? I imagined that is like some warm place, the sun, or just a something vague.
C: Yes, it was just a ward that was in my head though.(laughs) It came out so naturally when I was playing my guiter. And then I thought it was very simple and up-lifting. So I liked it.
I: This album contains 13songs, which is the most fairlytaling song?
C: Well..." Space Ship " would be. And " Vision Valley ", too.
I: Yeah, scenery and a story to draw of that song are very fantastic. What are those inspired by?
C: Well...just being alone, I guess. I think the song is made in some simple way in the afternoon when the sun was going to set.
I: On the other hand, which song is reflented yourself or autobiography-like the most?
C: Hmm...that would be " Vision Valley " , too. Or " Anysound " . But all of the album ...no, half of the album might be autobiography-like, a half of it, at least.
I: Could you tell me a little about " Going Gone " ? Once Kurt Cobain made the actress Frances Furmer a motif of a song. Like he did, this cheaf character Anna is modeled by someone?
C: This is just a character I made.
I: Okay, but this is a very meserable character, huh.
C: Yes, defenetely.
I: In this song, she left a note that said like there was nothing to waste. What kind of images is this come from?
C: I was thinking...I'm not sure though, it was just like a poem. Leaving a note in a bed room...just seems meserable. Like you said. So, I didn't think well what exactly was written when I wrote this. It could be something symbolic. Yeah, it should be. I guess something very important was written in the note.
I: Yeah.
C: ...I don't know any further.
I: (laughs) Okay, then I should go with some lighter questions now. What was the funnest thing you had during the recording?
R: Hamish. Generally. (laughs)
C: Hahahaha
H: The funny things was, Craig started a game. It's called " Ulah! ". (laughs) He waited someones coming hiding behind a curtain or a door. Then he jumped at the person who came.
We have our asistant at the studio, Fay, and Craig hid behind a curtain. Then we said like " Fay! Our head phones don't work, comeover here and check them! " ...of course, we didn't have the such trouble.(laughs) And Craig surprised Fay so badly. It was childish, but so funny.
I: Haha. Then, what was the hardest thing? What did you have your biggest effort for?
C: That would be when I got a cold when we had to record my vocaling. Yeah, that was like the ultimate trouble.
R: Besides that, we went so smoothly. Other than one week when he caught cold, that was just an easy session.
H: We had some typical arguments as a band for sure. Wayne kept saing that we had too much reverve on the vocal, but Craig said " This is just fine, more reverve!" (laughs)
C: The images for the album I had were more reverve. (laughs)
H: You know that, don't you? Craig's favorite is " Don't Listen To The Radio ", and we got the pretty good resolt, I think. Wayne wanted to do it more basic, but it's not the Vines' style. We want to put so many kinds of musical instruments or more reverve in our music.
R: Well, about the reverve, that was just one of the millions of subjects we had.
C: Or, delay.(laughs)
I: (laughs)
H: For example, " Space Ship " has some crazy mandolin and it sounds like keyboard, you know. The song has more strange sounds. And we used strings for " Vision Valley " and " Going Gone " for the first time, too.
I: Right, this was your first time to use it in all.
C: Yeah, I wished to challenge to use it from before. I think it matched the song, too.
H: We play as a simple band at concerts, but in studio, we don't approach some garage bands-like. We're more refined or something. We put more vocaling, more harmonies...
C: Yeah, we getout from a garage and go to a studio. (laughs)
I: How about the each playablity? What did you think you wanted to upgrate?
H: When we started to make demos, Craig said " I want to make this album heavier. ", remember? In fact, it did become heavier, I think. Like it became more rock album in a way. But I wanted to do drum solo this time, Craig didn't let me.
R: (laughs) Well, we always argue about his drum solo.
C: Hahaha
H: Well, it's not like I wanna set up my musician ship... In fact, if you get close to jazz or fusion music- especially for drummers, the egos are apt to be bared. But it's not like that, just listen to produsers and go simple without repeating. It would be the best way most of times. Don't make it complicated, let's just do things that make songs better.
R: That's the same about the guiters. They're very simple in fact. They're just going around the merody, or like that. So about the guiters...yeah, I just wanted them to sound sonic. I didn't think about them particularly and deeply, it was clear that how they should sound. Just go along with the way of our rehearsals.
I: How about you, Craig?
C: I just wanted the songs to be good. And I might wanted to make songs shorter and more simple. I don't know how to describe, but I wanted the songs that can get a point immediately. I didn't mean to not to make them longer, or make them shorter either.
They just became so. And mostly, I like songs 2minutes, not 5minutes. That's the way we can go good. Most of the times, we already have some very simple ideas and don't take much time to tell about those.
I: The such sense may have returned in those days of " Get Free ".
C: Yes, I think so. We're getting back to the days with the simple songs. We tried so many ideas in " Winning Days ". Of course, we tried some in this album too, but we just thought " It's better to be simple anyway ". (laughs)
I: Is that something you've learned from the last album(Winning Days)?
C: We just got more experiences,that's all.
R: We didn't have any pressure this time. Like it was just really casual approch.
C: Yea I felt so too. Actually, I didn't feel so much pressure in the last album, I thought it was good to make an album. And I don't feel pressure when I make albums anyways. Just focusing on what I do.
I: Then, did you listen to any other records/CDs?
C: Well, what did I listen to? The White Stripes, the Strokes, and I think I listened to the new stuff of Richard Ashcroft a lot.
R: How about Franz Ferdinand?
C: Yeah, we listened to them too. And Greham Coxon...
I: The latest one? " Love Travels At Illegal Speeds "?
C: Yeah yeah, that's it.
H: I haven't listened to the other ones.
C: This is so great. " Happiness In Magazines " was great too though, both of them are so great, can't compair.
I: Oh, Arctic Monkeys said that they got inspired by seeing the shows if the Vines.
C: Yeah, I don't know so well, but I heared that they're sayng something good about us. Like the Vines inspired them a little. Of course, I wouldn't say we made Arctic Monkeys though. (laughs) But really, if we inspired them, I'm so honored. In fact, I think they are a great band.
I: Have you listened to their album yet?
C: Yes, I thought it was great.
H: That's an great album. What if they let us open for them? Or opposite way is good though.(laugh)
I: Of course, you have to let them open for you! (laughs)
H: That's a great point! Yes, they play open for the Vines.(laughs)
I: Do you think positively about giving shows?
H: We're gonna give shows sometime. I hope to do this year, but I can't promise. I don't wanna dissapoint our fans.
I: Yeah right... Craig, you wanna play shows too?
C: Yes of course. I look forward to play.
I: 2years are long..
C: Yeah, can't help missing.(laughs) They(shows) should be different than before. I'm thinking I wanna make them more controlled.
I: Hahaha, that's opposite than they used to be! The greatest things of playing shows is that they're impossible of control, you said!
C: Yeah, we're changing at the point.(laughs)
H: That's the the Vines of the past. But you still wanna make them exciting, don't you?
C: Of course, they have to be exciting. But now we can play more songs, I wanna perform better.
R: In fact, our performance got the best than ever.
C: Yeah, playing new songs must be great.
I: Are there any old songs that have distance has appeared with present yourselves?
H: That might be " Ms.Jackson ", that cover song.
C: What? You don't wanna play the song?
H: Well, we can play some another cover.
C: Hmm...well...
H: Do you have any songs you wanna play?
C: No, nothing. Because if we think about it, we already have so many songs.
H: We can make prerry good set lists, huh?
I: Yeah, exciting.(laughs)
C: (thinking for a while).....But we're gonna play " Ms.Jackson ".
H: (bitter laugh)
C: We will play it!!! I bet Hamish will assent. Because " Ms.Jackson " is a really good song.
H: That is a good song, but I think we got through the song.
C: Then we can play both of " Ms.Jackson " and any song Hamish wanna play! Nothing comes up in mind that I wanna play, but we will play " Ms.Jackson ".
I: Ahahahaha
C: We WILL play it!!!
That was everything we talked about in 2hours. And like they said, nothing announced that how they're gonna act now. For playing shows, they have to start with finding a new bass player. But nothing to rush about. They started moving on again with releasing this new album. Yes, they still have so much time. They can walk slowly, and surely. In there, " Vision Valley " will be memorized as new shining work.